[adinserter block= »4″]

Happy Sunday! I'm checking in with my normal weekly recap of training for the Vienna marathon, which is coming up quickly on April 23.
Here's how training (and life in London) went this past week:
Monday: Rest day from running after a lot of miles the week before; needed that rest.
That evening, I went to see Oklahoma with some colleagues. This was not the same Oklahoma musical my high school performed years ago, ha! Well, technically it was the same; in fact, it was the same music, same script, but totally re-imagined and a lot "sexier." It was unique, not for everyone.
Our seats were right up in the action; the stage was pretty simply decorated. There were some scenes in complete darkness (with gunshots!). A unique theater experience for sure.
The hard part was that it was 3 hours run time with intermission, so it turned into a late night for me (someone who usually goes to bed early during the week!)
Tuesday: 7 miles before work; this was rough since I was out until midnight the night before and didn't have dinner. It was really hard to get out of bed, but somehow I did it though it wasn't pretty and isn't the way I prefer to train!
Wednesday: 8.3 miles in the snow/slush. I can't believe it snowed again in London- and in March!
It didn't last at all; it was gone by 8 am and turned into rain, but it added some interest to my morning run.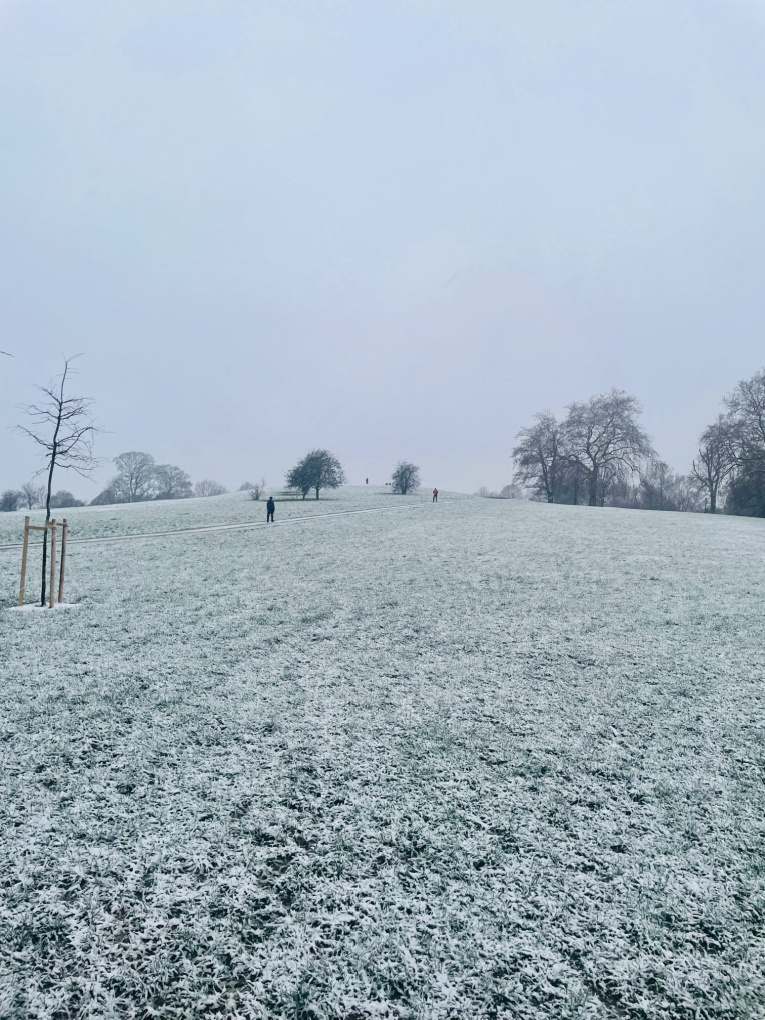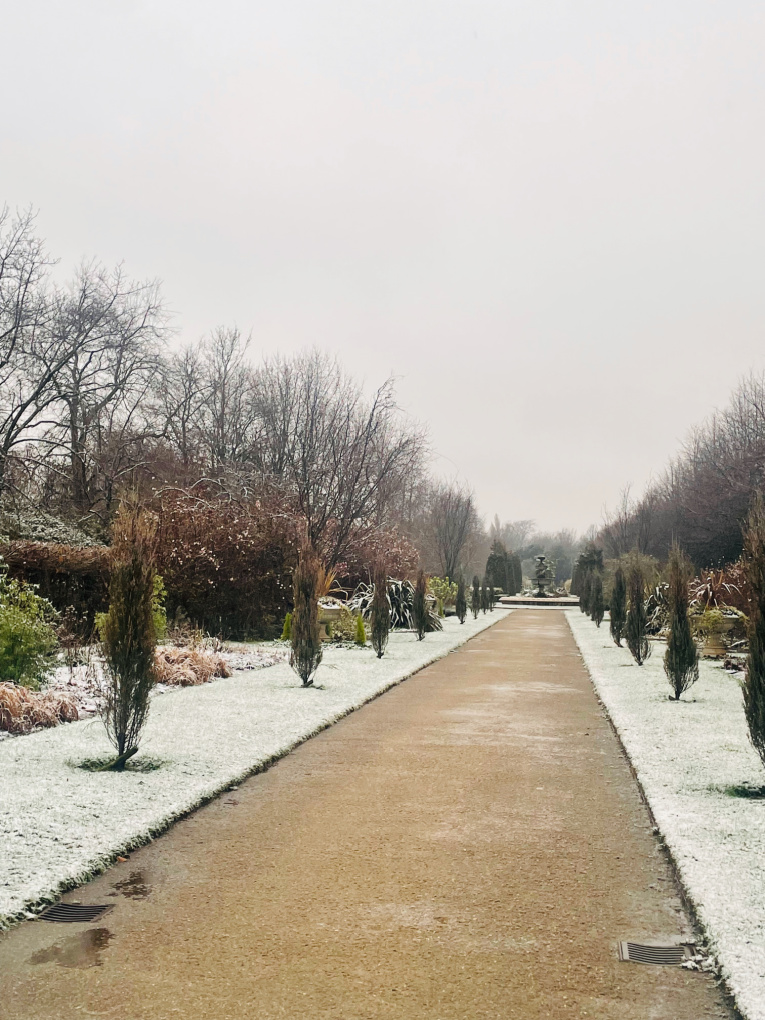 After work, I did an Iron Strength session that was chest and triceps + core on Peloton.
Thursday: The snow had completely melted, so I attempted a workout: warm-up, 3×10 min tempo, recover, then 5×1 min fast, cool-down, 10 miles total.
I realized that this large building that I run by frequently in Regent's Park is actually a residential house, and it is currently on the market, for the low, low price of £250 million. It doesn't actually look that big when running by it, but it is right in a Royal park, which I suppose ups the price too. And apparently it is much bigger than I thought, with 40 bedrooms. I figured it was one of the embassies like many of the other buildings near Regent's park.
As you can see, all the snow was long gone and green grass was back!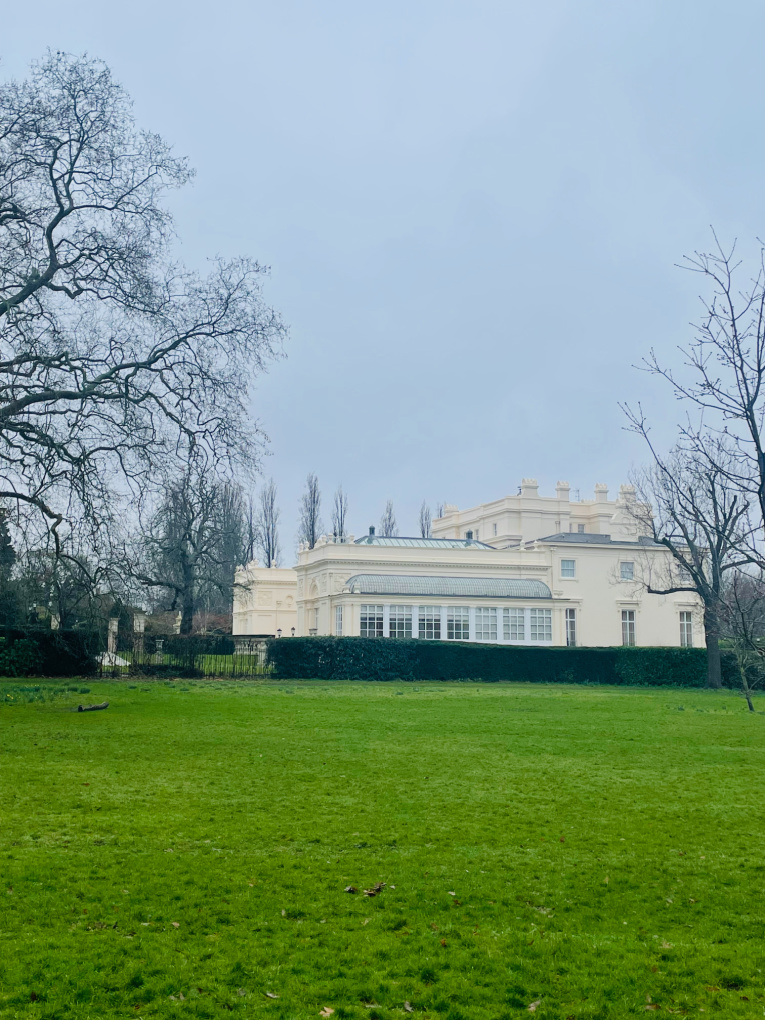 After work, I did an Iron Strength class focusing on the posterior chain. I'm taking things pretty "light" with any lower body right now, as I don't want to make my legs more tired than they already are from marathon training, but I still like to do a bit of strength.
Friday: This was a cutback week for the long run (after 20 miles last week) so I decided to get my long run done today before work; it was the worst choice day weather-wise though. It was about 37F or 3C and raining and windy; and the rain was often turning into stingy sleet, pelting my face. Dustin joined me for the first 5 miles and then I ran to Kentish Town (a nearby neighborhood) and met up with my coworker Tina, who ran the next 8 with me, then one mile solo to get to 14 total. It was such a rough morning and there were several times I thought about quitting and doing my long run a different day with better weather, but by the end, the rain and sleet had stopped and the sun was coming out. Of course. 🙂 Not my favorite run, but I got it done and am glad I did.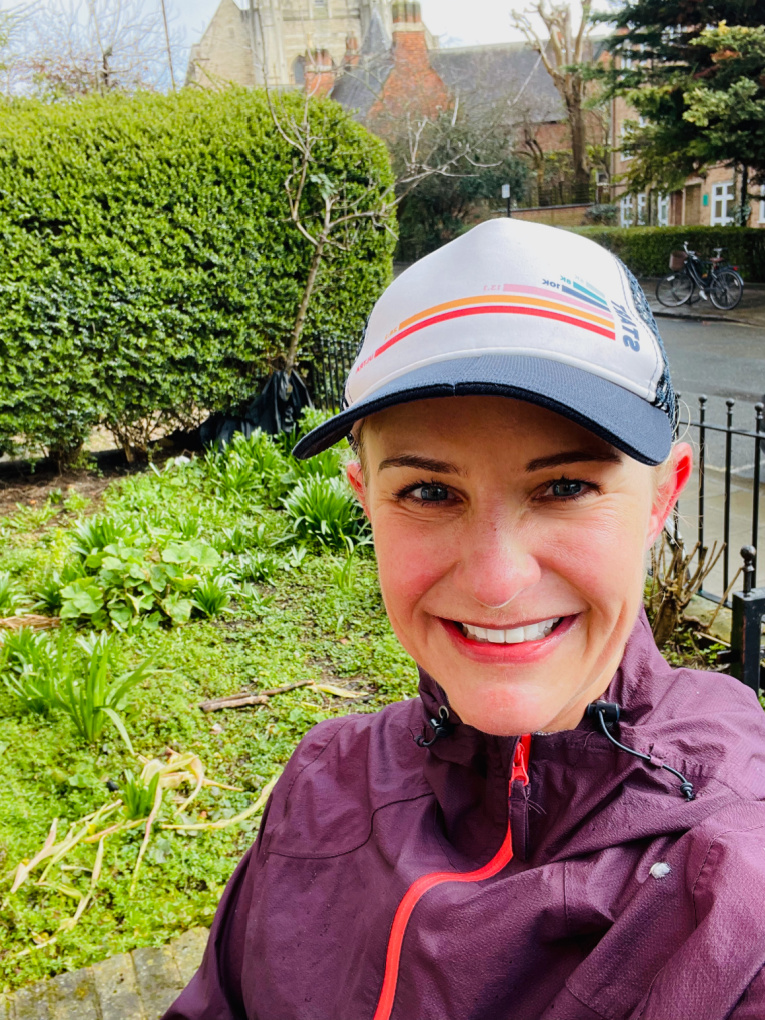 Later that day, since the long run was done, I did a lower body class on Iron Strength, but took things pretty easy weight-wise.
Saturday: Part of the reason I had hoped to do my long run Friday was because a (new) friend had invited me to join her for a tread class at the Peloton studio (and the best way to make friends is to say yes to everything, right?)
Taking a class at the Peloton studio in London was definitely on my radar but having a friend to encourage me was just the push I needed. We took the 45-minute 80s pop class with Susie Chan.
I could probably write a whole separate post about my first time at a Peloton studio! But in summary, it was great fun, quite the production.
We had to be there 45 minutes before the class, and 30 minute beforehand, you were allowed in the studio to get on your treadmill. My friend didn't want to be on camera, so we chose treadmills that wouldn't show up (though I did get a shout-out for it being my first tread class!)
The class went by quickly and I had fun!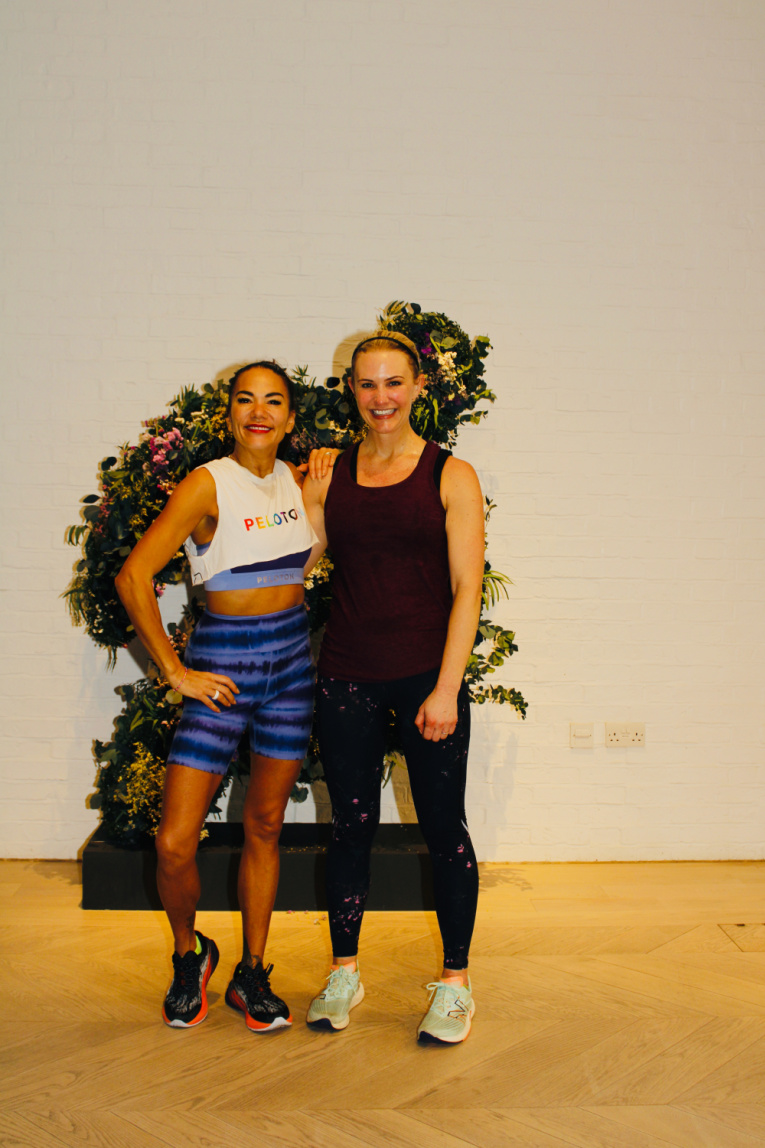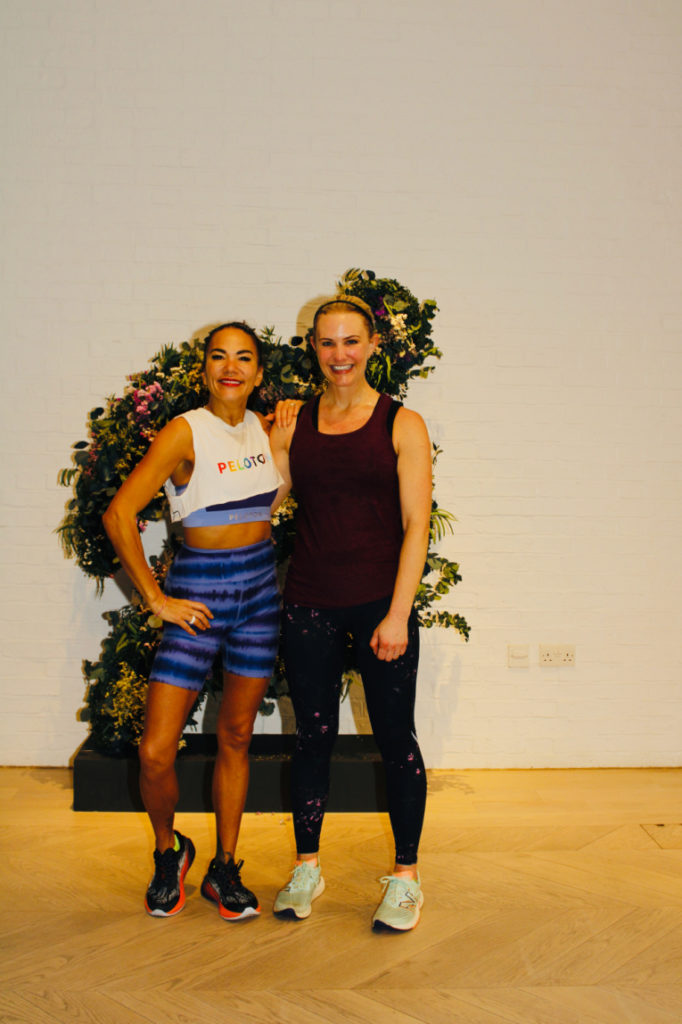 I covered 5 miles in the class and got a solid workout in, with a good mix of hills and intervals. I liked it!
After the class, my friend and I made good use of the lovely spa-like facilities at the Peloton studio before grabbing lunch at the nearby Seven Dials Market. It was a fun little morning/afternoon.
That evening, Dustin and I had dinner at La Bodega Negra in SoHo, hidden away in what appears to be an adult store (read more here!) Alas, inside is just a normal-ish Mexican restaurant (though we were a bit too old to be there, lots of hen-do's (bachelorette parties.)
Sunday: 7 mile run with Dustin and Ruth.
Then I took the tube over to Southwark for a quick PT session; when we were living by Tower Bridge in our temporary housing, I really liked One Body LDN for soft tissue PT work and I was excited to see they offer Sunday appointments. It's a bit out of the way now from Hampstead where we live, but it was worth the travel time to get there for some work on a tight IT band. Nothing serious, but I want to stay on top of it. The PT worked it out and then did a little dry needling.
Then I walked across Tower Bridge to the Shoreditch neighborhood to meet Dustin for a late lunch at Dishoom. Dishoom has several locations, but none of them taking bookings after 5 pm. We had been meaning to try it, but knew it would need to be at a random time otherwise it would be a long wait. Sunday at 2 pm wasn't that bad, I think we only waited 20 minutes to get a table. It was worth the wait, delicious! We will be back. Highly recommend eating there if you're in London and like Indian food.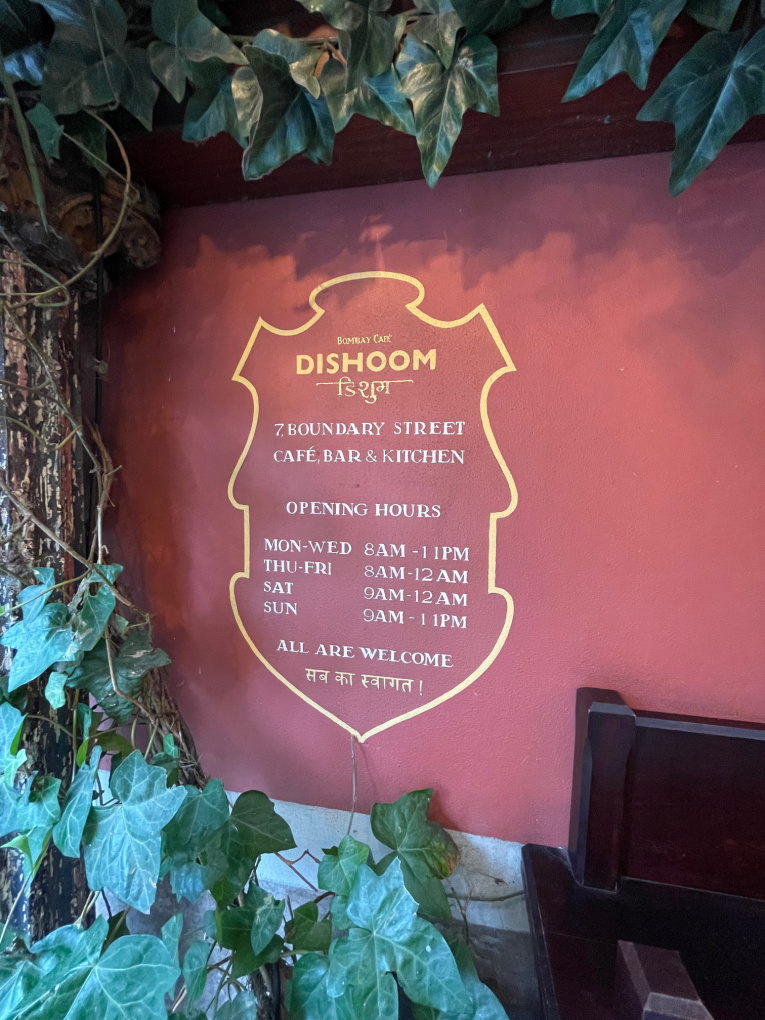 Summary: 51 miles of running, 3 strength sessions, attempt at daily 10 min core on Peloton
Next week will be another big week of training (with another 20 miler planned.) I won't be starting the week with any post-work theater outings, ha! Instead, I plan to focus on quality sleep during these last few weeks of push before Vienna.
That's a wrap! Thanks for reading and stopping by.
I'm linking up with Running on the Fly and Confessions of a Mother Runner; check out their blogs to connect with other fitness bloggers for workout ideas and inspiration!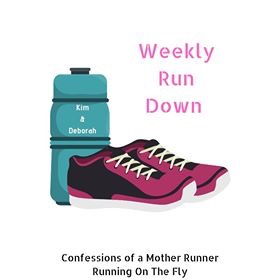 (Visited 162 time, 2 visit today)
[adinserter block= »4″]

Credit : Source Post