[adinserter block= »4″]

It was a nice week of London running and life, capped off with a weekend in the town of Bath. I plan to share a separate post summarizing what we did in Bath, so for now I'll focus on the Vienna training part!
Monday: Rest day from running. I did Iron Strength lower body after work + some Peloton core.
Tuesday: Back at it- I brought Ruth on my morning run, that included a workout: warm-up, 12 min tempo, recover, 2×6 minute tempo with jog in between, cool-down for 8 miles. Core after work.
Wednesday: One of the partners at our firm was in town and he is a runner, so I organized a morning run for the office (it was raining and only four of us showed, but that's okay!)
First, run commute, 5 miles, then the social run, 3.5 miles. 8.5 miles on the day. Another Iron Strength session + core after work.
Thursday: Another tempo-ish workout: warm-up, 30 minutes moderate, cool-down. 9 miles total. Felt a little guilty still in shorts when Minneapolis was getting two feet of snow!
After work, I joined a few colleagues at another play, this time it was a one-man show called "My Son's A Queer, So What Do You Do?"
"Rob Madge's autobiographical solo show My Son's a Queer (But What Can You Do?) is a coming-of-age story that celebrates Madge's experience of growing up queer in a supportive family."
It was a mix of the actor singing and dancing while sharing home videos of his childhood; it was really heartwarming as his parents and grandparents were so incredibly supportive. It made me laugh and it made me cry. Really lovely.
Friday: Ruth, Dustin, and I ran 7 miles before working from home (after 4 days in the office.) We logged off of work a little early, as we had a train to catch from Paddington station to Bath Spa on the Great Western Railway. (The pups stayed home with one of our Rovers.)
Saturday: Long run in Bath! I'll share more about our weekend exploring Bath, but we covered 15 miles via a big loop of Bath, along the Kennet & Avon canal and then through the Two Tunnels Greenway.
This route included running through the longest pedestrian tunnel (over a mile.) It was a unique experience!
Sunday: Another run in Bath, just 5.4 miles. I'm writing this post on our train back to London. Stop by later this week for a recap of exploring Bath!
Summary: 53 miles of running, 2 Iron Strength sessions, attempt at daily core on Peloton.
That's a wrap! I'm linking up with Running on the Fly and Confessions of a Mother Runner; check out their blogs to connect with other fitness bloggers for workout ideas and inspiration!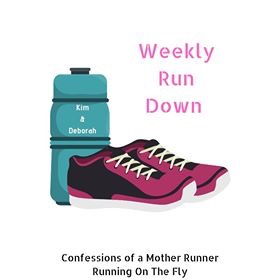 (Visited 150 time, 1 visit today)
[adinserter block= »4″]

Credit : Source Post