[adinserter block= »4″]

I missed last week's official link-up for the recap, but I did still recap my week HERE if you want to catch up on what I've been up to and the details of my family's recent visit. I have had so many visitors in London over this first year here, I feel like I'm becoming quite the tour guide for a variety of ages and interests. Let me know if you ever need my advice!
Here's my recap of this past week in running and life in London, as I start to prepare for the Dublin marathon in 18 weeks and the Marathon du Medoc in 10 weeks!
Monday: Rest from running; as I mentioned in this recap, I didn't take any days off of running the week before, so I was ready for a non-running day.
It was my family's last day in London; we started with the British Museum, which is enormous and it is impossible to see it all in one day, but we spent 3 hours or so exploring it. It's a must-see when in London!
Then we had lunch at Seven Dials Market near Covent Garden before browsing at Harrod's and Harvey Nichols in Knightsbridge. Most of the stuff at these enormous department stores is out of our price range, but its fun to stroll through!
We also took a short walk through Hyde Park before getting back on the Jubilee line to the St. Johns Wood stop, where Abbey Road (from the Beatles fame) is located. My three nieces don't even really know who the Beatles are, but they were still interested in getting a picture there, ha!
Our final evening together was spent at Coal Drop Yards, strolling along the canal (with a stop at Word on the Water, the riverboat bookstore) and dinner at Dishoom (which is delicious Indian food.) There might have also been some late night crepes at the Hampstead creperie (where my sister impressed us with her French!)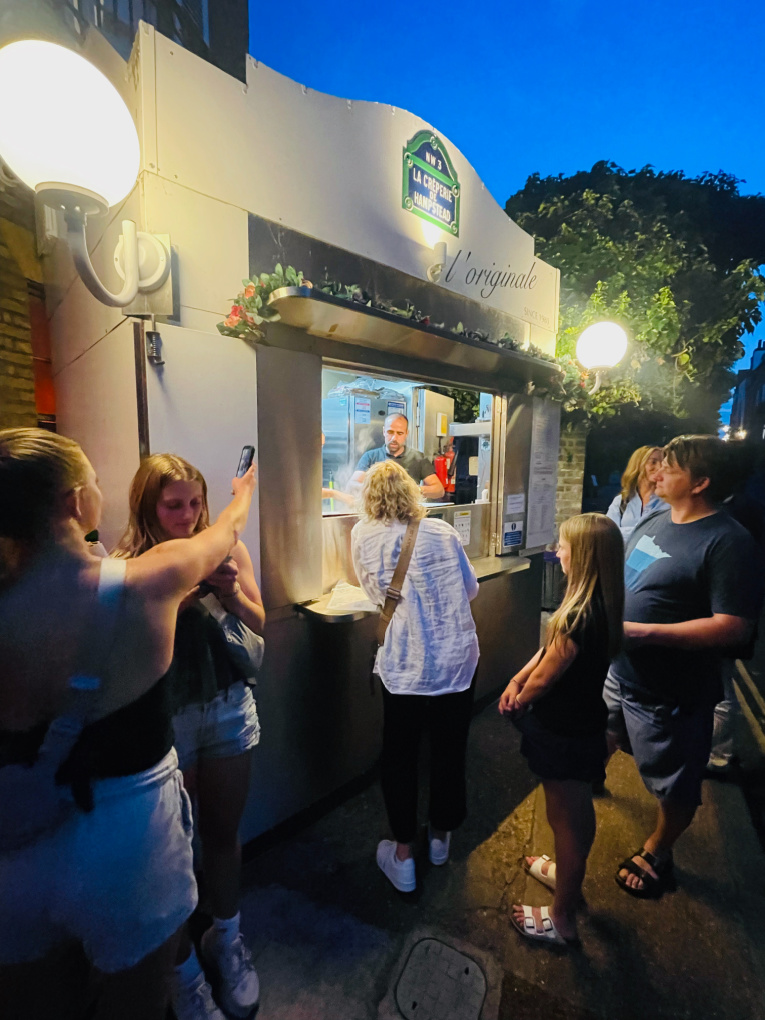 I may not have run this day, but we walked over 10 miles!
Tuesday: My family took an Uber to Heathrow in the morning to catch their flight back to Minneapolis; I ran 8 miles in the pouring rain before saying goodbye. We actually lucked out with the weather during their visit, it was sunny and in the 70s/80s every day. This was the first time it rained and it was on the day they were leaving. Not bad for London!
I worked from home and squeezed in an upper body workout with Kim Runs the Mitten.
Wednesday: Speed workout! I ran to the Regent's cinder track again, which is just over 2 miles away, then did 10x200m intervals with 200m jog recovery and back for 7 miles total. After work, I did some core and conditioning. In fact, I have been doing the 12 minute Caroline Girvan dead bug core workout almost daily and I SWEAR it's curing any IT band pain! It's the right magical mix of core and stability to cure whatever imbalance had been causing the issue. Thank you SO much to Jenny at Runners Fly for the recommendation! I can't thank her enough. It's shocking how little pain I have now and that's the only thing I can think of that has changed. Clearly core is so important for running!
Thursday: I ran 6.4 miles with Ruth; it was a toasty morning and I made several stops for water for her.
A quick hello to the giraffes too!
After work, I joined my theatre-loving colleague for a dark play called "Pillowman" at the Duke of York's Theatre. It was a unique one, that's for sure! It was written by the same guy who wrote the movies Banshees of Inisherin, In Bruges, and Three Billboards outside Ebbing Missouri, and it aligned with the general vibe of those films.
Friday: I ran to work- 4.75 miles, then ran with my coworker Nicole, 3 miles; I had thought I would tube home afterwards, as I needed to wfh for an appointment, but I was so sweaty I decided just to run home. At that point, I had almost 13 miles, so I counted that as much long run for the week!
It wasn't the best run though, as I did everything wrong- I didn't eat dinner the night before, I didn't eat anything before the run, and I didn't carry water (though I had some at the office before/after the run with Nicole.) Ugh, amateur hour over here! Not great….I vow to do better next long run. I was a little beat up afterwards and was happy to be working from home, that's for sure!
Saturday: Dustin is working through some hamstring pain, so he opted to just run 7 miles with Ruth and me (since I already did my long run the day before.)
Saturday evening, Dustin and I had dinner at Apulia in east London before seeing the musical A Strange Loop at the Barbican theatre. It was a theatre-filled week after all! Theatre is just so accessible in London and one of my 2023 goals was to attend more plays and musicals. I'm definitely achieving that goal!
Strange Loop is here just for a short run after success in NYC on Broadway. It was good, but definitely not for kids! (Neither was Pillowman for that matter.)
Sunday: 6 mile run with Dustin followed by some time at the Heath with both pups. It was too hot to bring Ruth on the run (80F/30C at 9 am already!) Then I did a lower body Kim Runs the Mitten strength session and some core.
This afternoon, we are heading to this fashion exhibition at Kensington Palace called "Crown to Couture: The Fashion Show of the Centuries."
"Featuring over 200 items from ball gowns to court suits and handbags to jewellery, this brand-new fashion exhibition for 2023 draws fascinating parallels between the world of today's red carpet and the Georgian Royal Court in the 18th century."
I'll report back afterwards on how it was!
And here are few bonus pictures of the pups, one from a walk with their Rover (dog-walker) with another pup Luna, and one of Ruth having a blast at Bruce's doggy daycare!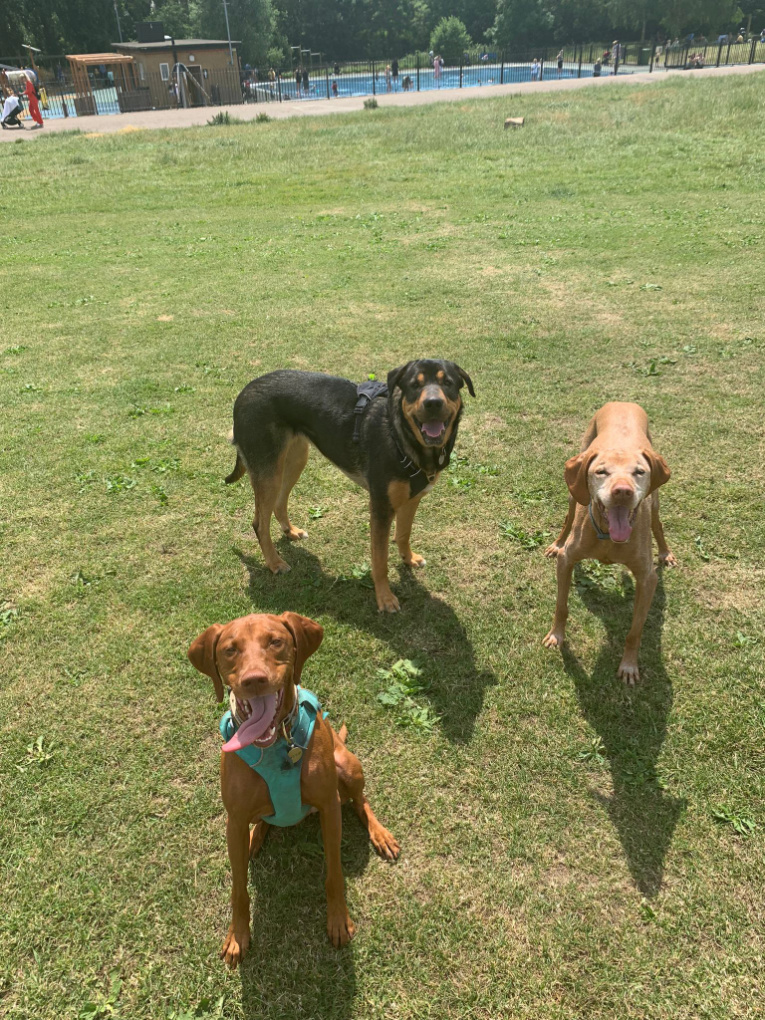 Summary: About 47 miles of running, 2 strength sessions, lots of 12 min- Dead Bug core workouts! I'm trying to do it at least every other day.
I'm linking up with Running on the Fly and Confessions of a Mother Runner; check out their blogs to connect with other fitness bloggers for workout ideas and inspiration!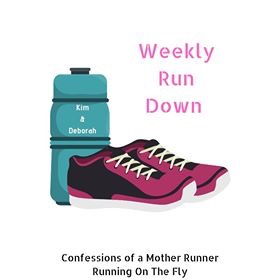 (Visited 33 time, 33 visit today)
[adinserter block= »4″]

Credit : Source Post